A
really fantastic friend
who seems to think that I am knowledgeable in fashion and the such asked me to post some of my must-haves for Spring.
Here is my feeble attempt. I will start with shoes. I find that the entire outfit will be ruined by not having the right shoe.
This was my go-to shoe last summer: (B.o.c. by Born. Savina in Champagne.)
I wore them all the time with shorts, capris, skirts, dresses, casual or dressed up. They are still in great condition and I will probably wear them all summer long again. The beauty here is the neutral champagne color. It goes with absolutely everything.
I hunted around and found some other neutral shoe options. These first three are all from the brand b.o.c. because they are affordable and they are comfortable.
Rianne - the heel maybe kind of cheesy, I'd have to seem them in real life.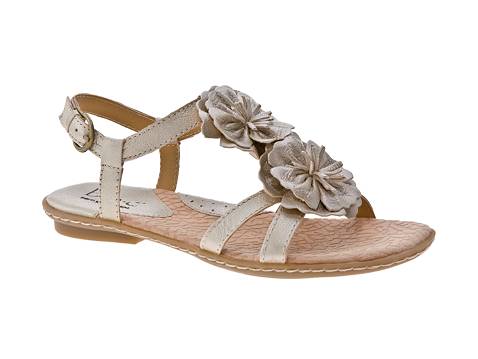 Edith:
Chocolat Blu Flower Thong Sandal
Ankle Wrap Wedge with Braided Trim
Here are some great options from
Target
.
I am in love with the idea of yellow sandals. I think they would go with everything.
Again: what wouldn't these go with?
I own these.
Stay tuned for other summer ideas.